How fun! I just love a good linky party!
Link up with Step into 2nd Grade for Mrs. Lemon's Tell Me More, Tell Me More linky!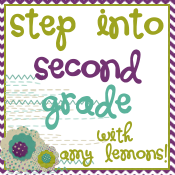 1. I am a Big Brother addict; although I don't subscribe to the feeds. I'm just obsessed with the show and have the app that gives me updates and spoilers. Just too cheap to fork over the cash-ola (plus I don't have the time to watch) for the subscriptions.
2. This will be my 6th year teaching kindergarten, but someday I think I'd like to be a reading specialist. :o) Leaving a classroom and figuring out what to do with all the stuff I've bought over the years makes me a tad nervous though.
3. My favorite children's author is Dr. Seuss, but I absolutely LOVE the Pete the Cat series. I can't wait for Pete the Cat Saves Christmas! I think Pete may be stealing my love for Seuss...now, who's going to make bulletin board, number cards, letter cards, etc, etc, etc, so I can have a Pete the Cat themed classroom someday? Nolan has a Pete doll, and he loves listening to me sing the songs. LOVE Pete!
4. Ben Folds & Ben Folds Five are my all time favorite musical people/bands. Close seconds are Matt Nathanson, Guster, Lady Antebellum, Rascal Flatts, and too many more to mention, but I guess those are my tops.
5. When I was younger, I thought I wanted to have a little boy then a girl, so the brother could look after his sister when they got to high school. When Clay and I got married, I thought I wanted a girl first in case we only had one child. Now that we have our Little Dude, I can't imagine having a girl. I am just loving having a boy! And, I'm definitely looking forward to less drama once he gets to HS :o) Plus there's less worry about eating disorders, body image, etc. that most of us struggled with in our teens and twenties (wait a minute, I'm still in my twenties! Barely)
6. I don't know if we'll ever try for another kid--whether through adoption or birth--because Nolan is just PERFECT! I think we'd get a horror child the second time around to make up for it! Plus I have NO IDEA how people with multiple kids do it. We're exhausted with just the one!
7. I am not cut out for apartment living. We lived together in an apartment after we got married for less than a year. We weren't really looking for a house, but thinking about it. I got an email from a local realtor with a house, had that gut feeling, and we toured it, applied for our loan, etc., and had bought the house within a week. Sometimes you just know! We have a lot of plans for it, and they'll take us probably 20 years to complete them all, but I just knew it was supposed to be our home!
8. We've been married for 4 years. In some ways it seems like longer, but the years have gone by so quickly! We've been together for almost 8 years. Clay is my best friend, a wonderful Hubby, and an awesome Daddy. I am blessed.
9. I love Pinterest, but I don't think I could ever possibly do all the things that I have pinned! There are just way too many good ideas!
10. I love baking, and did a TON of it before Nolan came along. Cakes & cupcakes galore! Now, I do a lot of boxed brownies and cookies from scratch since they're quicker to do when you have a little one getting into everything and have to keep a constant eye on him!
30th anniversary cake for my parents from a few years back