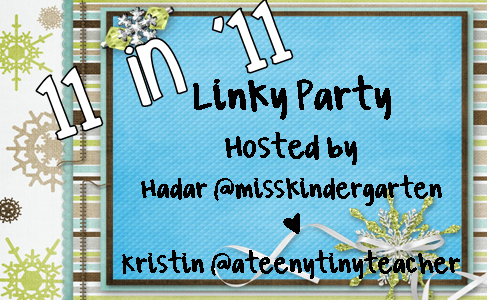 11. Favorite Movie You Watched
Harry Potter and the Deathly Hallows Pt. 2
Hubby and I always wait to see the HP movies until our anniversary (July 19th). Sadly, this year was the last time we would be able to do so. On our way home we discussed how weird it will be that our children won't have the anticipation of a new HP book or movie coming out each year. Instead, they'll have them all readily available. I wonder if there will be a series huge like this when Nolan is older!
This is always a tough question for me! I can never choose just one, but I think for 2011, it would be The Vampire Diaries. At the end of every episode I'm literally left saying, "WHAT?!?!" I don't know how they have a surprise at the end of almost every episode, but they do! Plus, Stephan isn't all that bad to look at, right?
Also tough to choose just one! I think I'll have to go with a local restaurant though, North Shore Grill. I love their crabcakes and salmon!
8. Favorite New Thing You've Tried
This might sound silly, but we finally began planning our dinner menu for the week. What a difference that has made in our nightly routines! It makes life sooo much easier!
I got the idea from this pin:
Then I changed it up a bit, so our menu looks like this:
7. Favorite Gift You Received
It's not necessarily a gift, but my favorite item I received this year was the Christmas card from my Hubby. He usually doesn't write much in cards, but this one was super special because of the things he wrote in it about the journey we've been through this year. And, of course, I wrote hardly anything in his this year as I was holding Nolan and finishing the card 5 minutes before exchanging gifts! *sigh*
6. Favorite Thing You Pinned
I love and made my own versions of these two onesies for my little guy. Such cute ideas! All of my favorite pins are baby related, shocker!
Let's Go Fishin'!
Flower Parts
I'm Still Here!
These are a few of my favorite blog posts from this year because they show some of my favorite games/projects that we do throughout the year. Of course, I had to include the Pete the Cat activities we did at the beginning of the year. Pete is one of my newest favorites!!
4. Favorite Accomplishment
Nolan Lee Cooper
Need I say more?
There is an absolutely gorgeous photo that the photographer at the hospital took of Nolan that I LOVE, but we haven't received the CD yet, so this one will do:
and...since my little man is a WEEK old today, I was being a mommarazzi and got this SUPER CUTE shot:
I'm no photographer, so I get SUPER DUPER excited when I actually get a good photo! Someday I'd like to take a photography class and learn how to use a fancy-schmancy camera instead of just point & shoot digitals.
The birth of Nolan Lee. December 21, 2011 @ 12:12 pm
I'm not sure if anything will ever top that one!
Get as much sleep as possible. Sleeping when the baby sleeps is hard; I want to get things done around the house instead! It's hard to just let things be when you have slight OCD.
I think my real goals for the year are
1. Lose the baby weight (obviously)
2. Find the balance between being a new Momma and going back to work in a few weeks. That will be interesting/difficult.
3. Be the best Momma, wife, teacher I can be and realize that my best is all I can do...don't stress about it! Prioritize and do the best I can with the time/resources I have. Family comes first, then school.