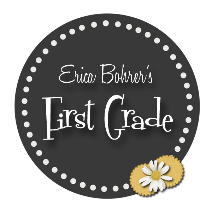 Erica Bohrer is having a class mascot linky party! I am loving this linky party because the different mascots are so fun to check out! Erica's also giving away packets for a Skippyjon Jones and Scaredy Squirrel mascot for FREE to help get you started. Gotta love that!
My first year teaching, I sent home Flat Stanley with the primary book:
The kids each got a turn taking him home in a tote along with a journal binder, disposable camera, and the book. We also sent Flat Stanleys around the elementary school and had many classroom's send him back with letters telling us what Stanley did in their classrooms. It was a really fun way for my kindergartners to learn about the different grade levels. They loved it!
The past few years, I haven't had a classroom mascot to send home. Other classes began sending Stanley, and I didn't want it to become redundant for the kids once they got into the older grades.
This year, since my classroom theme is Dr. Seuss, I plan on sending home Horton along with Horton Hears a Who and Horton Hatches the Egg and a journal for them to document what they did while Horton was visiting their home. I don't think I'll send a disposable camera this time but allow for families to take their own pictures and have them one-hour photo printed, so that we can see them right away! With Stanley, the kids had to wait until the camera was finished before I could develop the pictures, and it lost a little of the magic due to the long wait.
I don't have my own photos of the goodies yet, as it's still a work in progress and I just ordered everything from Amazon (L.O.V.E. Amazon!!) but here are the pics from Amazon. I still need to make the journal and get/create a Seussy tote to go along with it.
I will have to update once my goodies come in and my journal and tote are complete!