After a short hiatus from blogging, I'm back. The end of the school year is in sight...2 more weeks! So, needless to say, I've been swamped!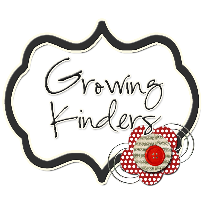 Anyway, the reason I am posting is because Growing Kinders is having a linky party regarding kindergarten schedules. I've been so enamored with how different everyone's schedules look. Wow! It's pretty amazing.
I'm absolutely in awe that some schools still do rest/nap time...how do you find the time to fit in all your curriculum? I struggle to do just that, and we don't do nap time. I can't even imagine!
It also blew my mind a few months ago, when the news had stories about some Rochester suburbs FINALLY going from half-day to full-day kindergarten. I seriously thought they were stuck in the 80s. With all the state requirements, how were they doing it all in half a day? Seriously blows my mind.
So, anyway, here is what my schedule looks like now...although it did go through a few transformations throughout the year, of course.